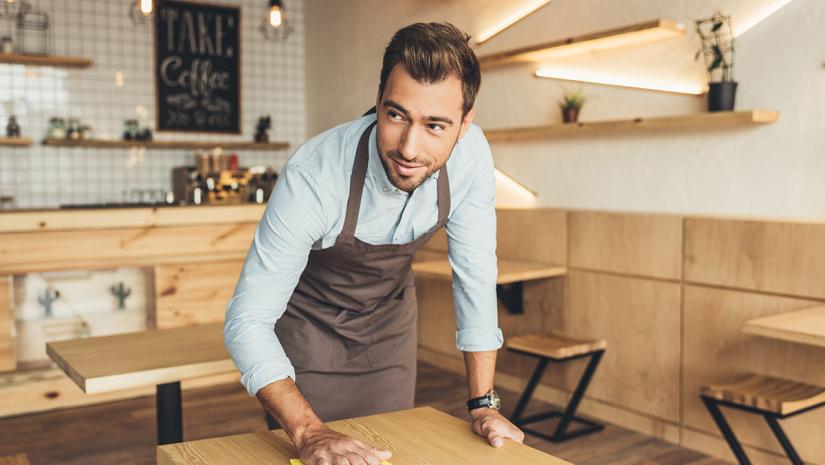 January 7, 2021
Maintaining a high standard of cleanliness in restaurants is key to ensuring food safety and preventing food-borne illnesses. Food businesses in Canada are required to follow federal and provincial food safety laws, which include operating a safe and clean establishment. A clean restaurant will also satisfy customers and keep them coming back which means growing revenue and success.

Restaurant owners and managers can maintain a clean and hygienic restaurant by following a detailed restaurant cleaning checklist. A restaurant deep cleaning checklist should include a kitchen cleaning checklist (back-of-house cleaning) as well as a dining room cleaning checklist (front-of-house cleaning). Use the following restaurant cleaning schedule to ensure a clean and compliant restaurant.
Restaurant Kitchen Cleaning Checklist
The kitchen of a restaurant is where the greatest food safety risks occur, so following a kitchen cleaning schedule is essential for food safety. Keeping the kitchen clean in a restaurant is not only necessary for preventing food contamination and food-borne illnesses, it's the law. Food businesses can be inspected by local Health Inspectors at any time. Food businesses found not in compliance with food safety laws, such as not maintaining the cleaning and sanitizing of the kitchen, can face fines or even closure.
Use the following checklist as a guide for what should be cleaned daily, weekly and monthly in the kitchen. As a general rule, anything that has direct contact with food must be cleaned and sanitized regularly. Items that have not had direct contact must be cleaned but not necessarily sanitized. Remember the following terms when using the checklist:
Cleaning removes physical dirt, soil, chemical residues and allergens from equipment, utensils and work surfaces
Manual cleaning is cleaning that involves using a sink or bucket with detergent and water
Sanitizing removes harmful pathogens from food contact surfaces. Sanitizing is performed after cleaning
Daily
Surfaces
clean and sanitize walls where food has splattered
clean and sanitize surfaces in food preparation areas
clean and sanitize food preparation sinks
sweep and mop the floors
sweep walk-in refrigerators
sweep storage areas
clean and sanitize inside and outside of garbage cans if they are used heavily or used for high-risk foods
Equipment
manually clean cooking surfaces such as grills, ranges and fryers (be sure to clean underneath)
change the foil lining on top of grills and ranges
manually clean equipment (beverage machines, coffee makers, espresso machines, microwaves, toasters, etc.)
manually clean beverage dispenser heads and tips of soda dispenser guns
clean and sanitize utensils, flatware and glassware
Other items
wash rags, towels, aprons and uniforms in washing machine
refill soap dispensers
replace empty paper towel rolls
dispose of recycling
dispose of indoor garbage
Weekly
Surfaces
manually clean lime from the sinks and faucets
clean and sanitize walk-in refrigerators and freezers
manually clean floor drains with drain cleaner
clean and sanitize inside and outside of garbage cans (if not done daily)
Equipment
manually clean ovens (be sure to clean the walls, door and racks)
manually clean the deep fryer (boil it out)
Other items
manually clean floor mats
empty outdoor garbage cans at least twice per week
Monthly
Surfaces
manually clean walls and the ceiling
manually clean behind the hot line
manually clean vent hoods (this can be done every couple of months)
Equipment
clean and sanitize the coffee machine and expresso machine
empty, clean and sanitize the ice machine (every 6 months)
clean and sanitize the freezer
manually clean refrigerator coils
empty grease traps
Other items
Front-of-house Cleaning Checklist
It is important that the front-of-house is clean in order to provide a safe and healthy dining experience for customers. When customers come to a restaurant to eat, they expect to dine in an environment that is tidy, clean and inviting. The experience of dining in a food business that is unclean is enough to turn away customers and hurt a business's bottom line. This is why using a cleaning checklist for a restaurant dining room (and other front-of-house areas) is so important.

Use the following checklist as a guide for what should be cleaned daily, weekly and monthly in the front-of-house.
Daily
Surfaces
manually clean walls as necessary
manually clean counters
vacuum carpets
sweep and mop floors
clean and sanitize door handles and railings
clean and sanitize access buttons / elevator buttons
Furniture
clean and sanitize dining tables
manually clean seats and benches
Restrooms
clean and sanitize restroom surfaces
disinfect toilets
manually clean restroom sinks
empty out feminine hygiene containers / garbages
dispose of bathroom garbage
sweep and mop restroom floors
clean and sanitize door handles and railings
Other items
clean and sanitize condiments / salt and pepper shakers
wash cloth napkins, tablecloths, and aprons in washing machine
empty garbage cans
clean and sanitize garbage cans
clean and sanitize credit card machines
clean and sanitize menus
Weekly
Surfaces
manually clean the light fixtures
manually clean glass windows and doors
Monthly
Surfaces
dust items on walls (e.g. art or decorations)
manually clean all the walls
Running a food business is a big endeavour, with many important tasks to do and regulations to follow. Having a clean and safe business is the top priority. Breaking down the cleaning tasks into daily, weekly and monthly lists makes them easy to implement and keep on top of. By using the restaurant cleaning checklist for both the kitchen and front-of-house, restaurant owners and managers can ensure they are running a hygienic and food safety-compliant business.

Download and print off the CIFS Restaurant Cleaning Checklist for an even easier way to implement their restaurant cleaning schedule.