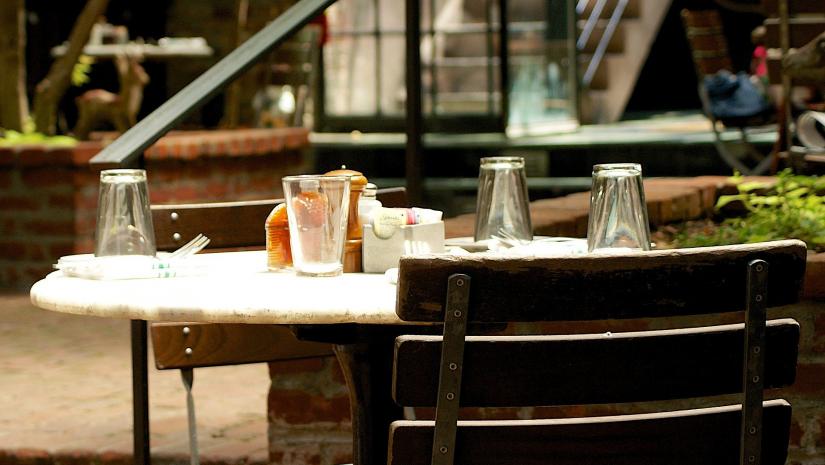 November 24, 2020
Food businesses have been utilizing outdoor spaces and patios over the summer months to serve customers safely and help boost revenue after a challenging spring. For food businesses in some hot spots throughout the country, indoor dining has been shut down again and food businesses are only permitted to conduct outdoor dining and take-out or delivery services. While the focus is on keeping people safe and reducing COVID-19 case numbers, many food businesses are wondering how they can continue to operate outdoors now that the weather is getting cooler. The following is a list of key things to consider and tips on how to winterize outdoor patios to continue serving customers comfortably.
What to consider
Local weather
The location of a food business plays a significant role in preparing an outdoor patio for service during fall and winter. Food businesses that are used to significant snowfalls and windy days during the colder months will have a much harder time serving customers outdoors. Food businesses need to consider what the local climate is like in their area and how they can set up their patio to still be comfortable despite the elements. Food businesses should also consider how long they will be able to operate on a patio before it simply becomes too cold or uncomfortable for customers. If the area typically gets really cold or has lots of snow well before December, operating on a patio for the long term may not be feasible.
Expenses
Food business owners must look at the projected costs of operating a patio throughout the colder months and decide if the expenses can be recuperated through revenue. Considerations include the purchasing of outdoor heaters and other necessities to make the patio welcoming, comfortable and safe. Food businesses must also consider the increase in heating costs due to the use of outdoor heaters. If the costs for continuing to operate outdoors is less than the projected revenue, then continuing with outdoor dining in the cooler months can be a successful endeavor.
Food safety
Food businesses must always keep food safety a priority, even during the pandemic. Following COVID-19 protocols is vitally important, but so is ensuring that food is safe to serve and consume. Time and temperature are key in food safety, and serving food outdoors in cold weather can have an effect on food safety. Food must be cooked to and served to customers at certain temperatures, and the colder weather outside will cause food to lose its temperature faster than usual. Food businesses must consider the dishes that are on the menu and whether they should be served to customers outside in colder weather. Adding hotter meals such as soups and stews to the menu is also a good idea as they will keep their safe temperature longer.

It is also important to work with kitchen and wait staff to ensure that everyone is on the same page with regards to time and temperature control. Dishes will need to be served to customers as soon as possible after being prepared so that they can be consumed hot.
Applicable laws and regulations
During the warmer months when food businesses began reopening, many cities eased restrictions on outdoor dining to allow for more food businesses to serve customers outdoors. In some areas, these loosened restrictions have an expiry date, so it is important that food businesses check their local laws and regulations to be sure they can continue to serve customers outdoors.
Food businesses should also check their local regulations to ensure that outdoor heaters are allowed.
What to do
Be ready for the elements
If deciding to continue operating an outdoor patio, food businesses need to be ready for the elements in the colder months. Increased precipitation including rain, hail, sleet and snow are all possibilities in fall and winter. Food businesses must ensure that customers can be kept protected from the elements as they dine. This can be achieved by ensuring that the patio has a roof and installing dropdown coverings to help block the wind and other precipitation.
Ensure it is warm
Keeping customers warm and comfortable is absolutely essential. Not only is it a health and safety issue, but it will make the difference between a returning customer and one that doesn't come back for another patio meal. Some ways to keep outdoor spaces warm include propane heaters, infrared heaters, fire pits and outdoor fireplaces, just to name a few. Food businesses can get creative with how they implement items onto the patio to keep customers warm while also creating a unique environment.
Assess lighting and furniture
The lighting and furniture used on the patio during the summer months will most likely need to be changed during the colder months. This is because there is less natural light during fall and winter, so brighter bulbs will need to be used in order to make the patio appear bright and inviting. Changing the light fixtures is another way to increase the lighting on the patio. Certain light fixtures can reduce the direction of light and cast shadows. If possible, food businesses can change fixtures to allow for more light to be cast throughout the patio.

Food businesses must also be prepared to change up the furniture in outdoor spaces. The seats used in the warmer months will most likely not be comfortable for diners in the fall and winter. If possible, change the seating and tables to ones that are not made of metal which are much colder to dine on.
Have a safety plan in place
Even with lots of preparation and precautions, sometimes mother nature has her own ideas. Food businesses must have a safety plan in place for when the weather becomes dangerous or too uncomfortable for customers. This plan should include steps to take during service and also what to do if extreme weather is anticipated in the coming days. Customer safety must always be the number one priority, and having a safety plan in place will ensure that customers will be well taken care of in the event of extreme or unpredicted weather.