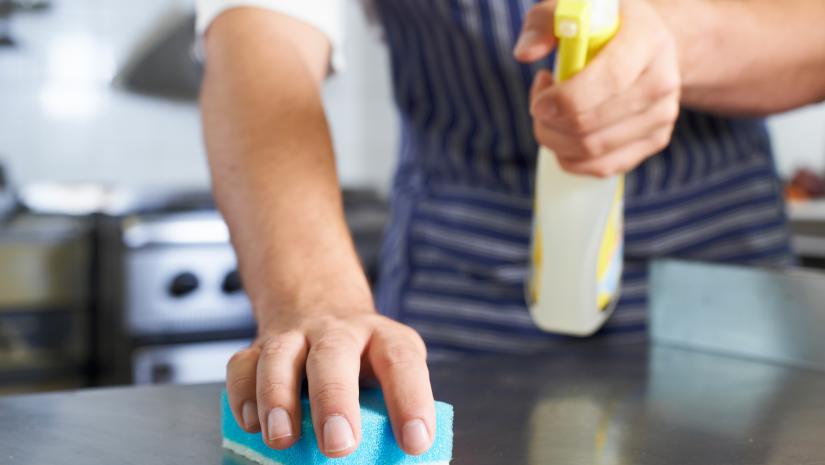 March 17, 2020
Regular cleaning and sanitizing is essential to ensuring food safety anywhere where food is handled, from the hospitality industry to food transport and distribution. Especially now with the rise of the worldwide COVID-19 pandemic, maintaining a regular cleaning and sanitizing schedule is vital for food businesses.
Sanitizing for coronavirus (COVID-19)
SARS-CoV-2, the coronavirus that causes COVID-19, can live on surfaces for up to nine days. This means that food businesses need to be extremely diligent with maintaining the premises. The most effective way of killing the virus is through sanitizing. Recent research has indicated that two commonly used sanitizing methods are effective in killing coronaviruses:
chlorine (1000ppm concentration)
hydrogen peroxide (0.5% concentration)
Most sanitizers are effective at killing the coronavirus, but it's important to check with your supplier to confirm that your sanitizer of choice is effective against the SARS-CoV-2 coronavirus.
Items that may need to be sanitized
To ensure the health and safety of your customers during the COVID-19 pandemic, more items than usual need to be sanitized. Anything that is touched often or located in a high-traffic area needs to be sanitized. This includes items such as:
credit card machines
tables and chairs
menus
salt and pepper shakers
sauce containers
food trays
light switches
railings
Why is cleaning and sanitizing important?
Cleaning and sanitizing in a food business or community organization — particularly those that provide food to high-risk groups and vulnerable persons — is crucial.

Food Handlers must receive food safety training to ensure they know how, what and when to clean and sanitize, as well as the risks of not following food safety procedures.

Food safety training also makes good business sense, because effective cleaning and sanitizing:
prevents pest infestations
helps ensure your business passes health inspections
helps to protect customers from viral outbreaks like COVID-19
helps to protect customers from food poisoning, injuries and allergic reactions to food
Download the CIFS Guide to Effective Cleaning & Sanitizing for more information about what, when and how to clean and sanitize surfaces and equipment in your food business to prevent food-borne illness and other serious food risks.